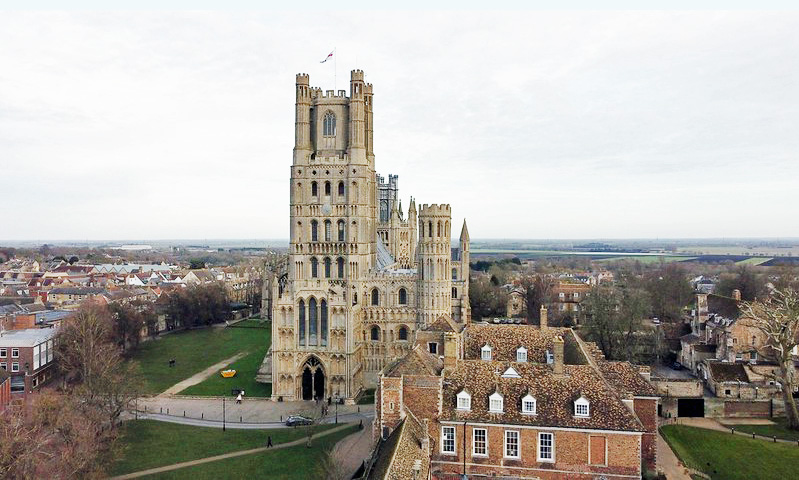 The exquisite workmanship seen in the structure of Ely Cathedral exhibits the now rare manual skills that were once employed to elevate church architecture symbolically towards a higher realm. Among the oldest of the UK's cathedrals, it is set on what was a lofty island which was joined by reclamation drainage works to the Cambridgeshire mainland in the 1600s, vastly improving access for the many pilgrims drawn to it.
The Saxon princess St. Etheldreda (or Ethelthryth, c.636-79) who first had a wooden abbey built in this spot in 673, obviously desired almost complete isolation ~ not only was the island surrounded by marshland but she personally took a vow of chastity, maintained throughout her two marriages!
Today's huge building complex, which has earned the nickname 'Ship of the Fens', is the result of several reconstructions and renovations, including replacement with a stone Romanesque cathedral and monastery soon after the Norman Conquest. The nave, at 246 feet, is one of the longest in Britain and the Cathedral has a classical octagonal tower, completed in 1342, which may reference the number eight's association with eternity to ensure that, at the very least, the tower does not collapse like its predecessor did early one winter's morning in 1322.
(Image: Steve Knight at Flickr.com / CC BY 2.0)