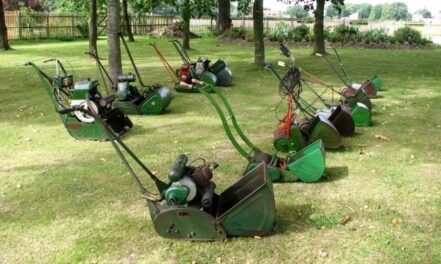 Edwin Beard Budding (1796-1846) from Gloucestershire was a mechanical engineer with a knack for devising improvements, repairs and solutions to various types of machinery issues. Whilst employed at the local Phoenix Iron Works, owned by John Ferrabee (1789-1853), he upgraded the machine for shaving protruding fibre ends from the surface of woven textiles. This set him thinking about another application for such a device, namely the cutting of grass, and in 1830 he patented his design for the first lawnmower.
He went into partnership with Ferrabee, who provided the finance and the production facilities. The first sales were to head gardeners appreciative of an alternative to the exhausting work of scything large areas of grass. Budding's cast iron lawnmower had three blades on a rotating cylinder, a large rear roller, a clippings collection tray on the front and an extra handle so that one man could push while another pulled.
This innovation was licenced in 1832 to J.R.&A. Ransomes in Suffolk, who had great success in expanding the market and produced the first petrol mower in 1902. By 1926 the Atco Standard motor mower, manufactured by Charles H. Pugh Ltd of Birmingham, was the first to be mass-produced to meet the increase in demand after WW1.
(Image of vintage Ransomes, Webb and Qualcast lawnmowers: Evelyn Simak at geograph.org.uk / CC BY-SA 2.0)