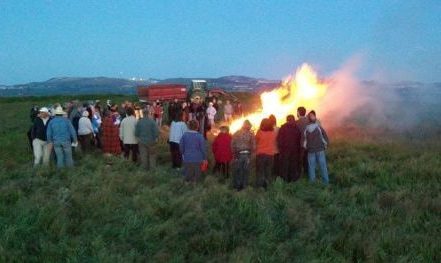 Cornish Midsummer's Eve Bonfires
Cornwall is the long protruding county in south-west England with coastline stretching all around up to its border with Devon. As such, the setting of a chain of bonfires from one end to the other at midsummer is an evocative image. Their ancient purpose was to implore the Sun to shine on the crops for the rest of the summer until harvest-time. These fire festivities were eventually halted in the 1890s due to 'health and safety' concerns.
However, the Cornish Midsummer's Eve Bonfires were resumed in the late 1920s, albeit in a more toned down fashion. The 'Eve' refers to 23rd June, the day before the feast of St. John the Baptist, as this pagan tradition was adjusted to fit into the Christian calendar.
In Penzance it is called the Golowan Festival and it extends over a weekend. In fishing towns it is the eve of the feast of the fisherman St. Peter, 28th June, which is celebrated instead. Generally the bonfire is accompanied by Cornish songs and prayers and the throwing of herbs and flowers into the flames. Sometimes there is even a performance of a breathtaking old custom (not to be tried at home, folks), as seen here:
(Top image: Talskiddy at Wikimedia Commons: CC BY 3.0)