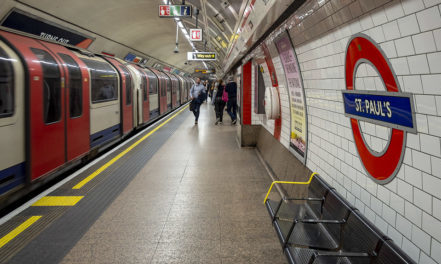 The London Underground, or 'the Tube', was the world's first subterranean railway network and without it and its 270 stations, London would be engulfed by cars and extra roads. Of its 253 miles, 45% are below ground, as much as 221ft. down. During WW2, Tube stations doubled up as air raid shelters and even housed makeshift factories for the manufacture of aircraft components.
It opened in 1863 with the Metropolitan line. The trains were steam-powered and had three classes of carriage. In 1890 the first electric railway was introduced as more lines were added. In 1900 the Central line was the first to lie entirely underground. The whole system was unified in the early 1900s and the flat rate fare was launched. The Art Deco design of stations and signs became the corporate style and journey time was cut by installing a driver's cab at each end of the train.
Inevitably, tunnel construction disturbed cemeteries and goodness-knows-what-else from centuries past. This, along with disused stations and the many suicides committed on Tube tracks, has led to numerous accounts of ghostly sightings and strange noises! These generally occur when the almost 4 million passengers per day have left and the Tube is shut, 12am-5am, for maintenance and cleaning.
(Top image: Rossographer at geograph.org.uk / CC BY-SA 2.0)