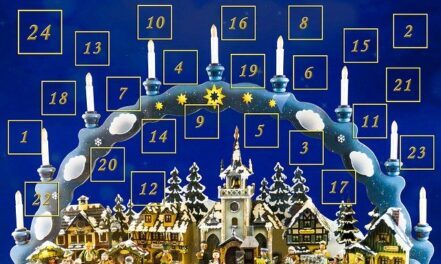 Advent is a 4-week period in the Christian calendar starting on the fourth Sunday before Christmas or the Sunday closest to 30th November, the Feast of St. Andrew. Whilst that marks a commemoration of the prelude to Jesus's arrival on Earth, today's Advent calendars cater more for the run-up to the arrival of Santa Claus on 25th December with his sack of presents.
Advent calendars are designed to be used from 1st December to either the 24th or 25th December. One little numbered door, or flap, is folded back each day and fifty years ago they would have revealed just a picture, but in the late 20th century the chocolate manufacturers introduced calendars with tiny chocolate shapes behind each flap.
The commercial success of this type of Advent calendar has been such that there are now calendars of all shapes, types and prices. Calendars filled with small toys, beauty products, perfumes, liqueurs, wine, preserves and spreads can all be found, along with calendars for pets and reusable calendars with empty slots that are filled with your own choice of trinkets. No longer exclusively a children's game, adults can indulge in their own countdown to the big day as well.
(Image: blende12 at pixabay.com)