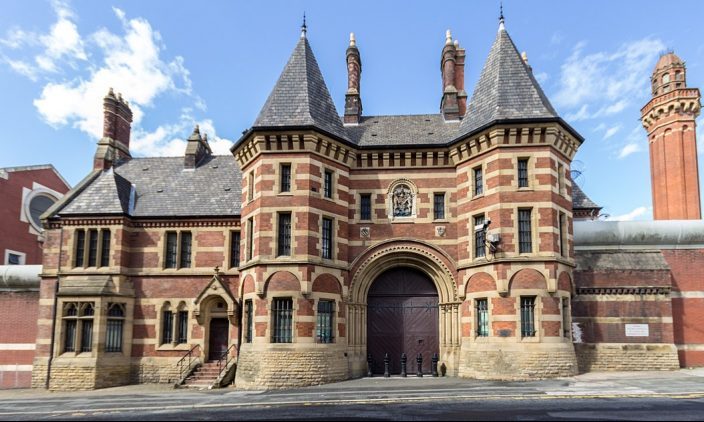 Maximum punishment for crime
The last death penalties carried out in the UK were in 1964, when convicted murderers Peter Allen and Gwynne Evans were hanged. However, it was not until 1998 that execution was entirely abolished. The punishment for the most severe crimes, such as murder, is now life imprisonment.
After a certain length of time, prisoners may be eligible for parole, which means that they could be released with some restrictions. Nevertheless, some prisoners do spend the whole of the rest of their lives in prison.
The photograph above is of H.M. Prison Manchester (otherwise known as 'Strangeways'), which is a Category A men's prison ~ Category A being the highest of four Categories of criminality. It was opened in 1868. It is one of eight high-security prisons for Category A prisoners, the other being Belmarsh, Frankland (nicknamed 'Monster Mansion'), Full Sutton, Long Lartin, Wakefield, Whitemoor and Woodhill. The total prison population is around 90,000 of which perhaps 1,000+ are Category A and these are further classified as to their risk of escaping.
(Image: Peter McDermott at geograph.org.uk / CC BY-SA 2.0)