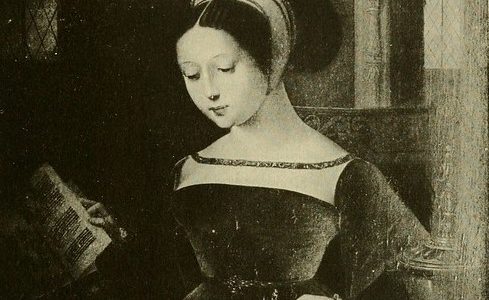 Lady Jane Grey was born in 1537 in the reign of King Henry VIII (1491-1547). His immediate heir was Edward, followed by his daughters Mary and Elizabeth. Jane was related to Henry through his niece, her mother the Duchess of Suffolk. Jane had no thoughts of assuming the role of monarch, but by the age of sixteen had not only married but become Queen and been executed for treason!
These extraordinary events were engineered by her father and her father-in-law, both of whom were also executed, shortly after the beheadings of Jane and her husband, Lord Guildford Dudley in 1554. Three arranged weddings had taken place on 21st May 1553 at the Dudley home, with her sister Catherine and her sister-in-law Katherine also being married off to aristocratic partners.
Her father-in-law was in an extremely powerful position as regent to King Edward VI, who died when only fifteen in 1553, naming Jane as his Protestant heir instead of the Catholic Mary. Jane had been promoted up the list without her knowledge. She was proclaimed Queen on 10th July 1553, just a few weeks into married life. Mary was having none of this and she arrived to brutally remove Jane, a mere political pawn, and her family.
(Image: InternetArchiveBookImages at Flickr.com / Public domain)