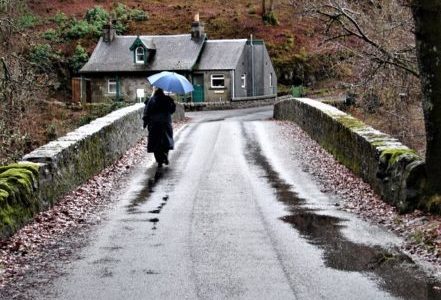 Swithin, or Swithun, (c.800-863) became Bishop of Winchester in 852. He organised the building and restoration of churches and bridges, financed by a 10% tax introduced in 854 by a law to which he was a signatory. His dying wish was to be buried outside in Winchester Cathedral's churchyard, where the rain would fall on his grave.
In 971 the Cathedral was being extended and on 15th July, Swithin was re-located inside, but it was reported that a rainstorm hampered the process, which some took to signify Swithin's sorrow at what was happening. He was later canonised and several miracles were claimed in his name, with 15th July becoming St. Swithin's Day. The faithful would pray to him for rain in times of drought.
His association with rain is enshrined in our weather folklore, as in:
St. Swithun's day, if ye do rain,
For forty days it will remain;
St. Swithun's day, an ye be fair,
For forty days 'twill rain nae mair.
The French have an equivalent for 19th July: 'Quand il pleut à la Saint Gervais, Il pleut quarante jours après'. Due to the steadiness of the Atlantic jet stream in July and August, these sayings do have a little scientific basis!
(Image: Ian Paterson at geograph.org.uk / CC BY-SA 2.0)