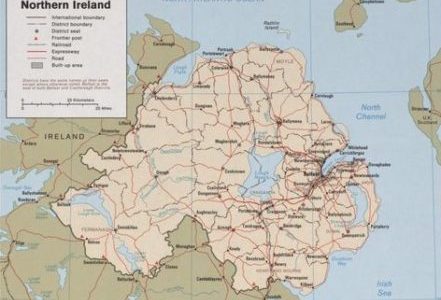 In 1800, Britain and Ireland passed the Acts of Union which abolished the Irish Parliament and put Irish MPs and Lords into Westminster, whilst retaining local administration in Dublin. Amid the subsequent discrimination against Catholics, a nationalist movement arose, sometimes instigating violent insurrection against the British military. From 1886, the British government began a series of attempts to give Ireland 'home rule'.
In mid-1914 this was about to come to fruition, but the Protestants of north-east Ireland wanted to remain with Protestant Britain. Both the nationalists and the unionists had imported large stocks of guns and civil war seemed inevitable. King George V (1865-1936) then brought them together at a peace conference at Buckingham Palace days before the start of WW1. No agreement was reached and during the period 1916-21, the nationalists tried to seize power through guerrilla warfare.
The idea of the partition of Ireland as a compromise solution was first mooted in the 1890s and in 1921 it transpired with the Anglo-Irish Treaty which established the 'Irish Free State'. Six of the nine counties of Ulster ~ Armagh, Down, Londonderry, Tyrone, Fermanagh and Antrim ~ were excluded to appease the unionists, thereby creating a 310-mile border between Northern Ireland and Ireland, re-affirmed in the 1973 referendum.
(Image: picryl.com / Public domain)