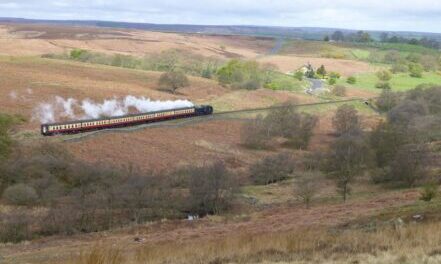 Designated a National Park in 1952, the North York Moors comprise 355,000 acres of rural land with an Australia-shaped outline in the north-east of England. Middlesbrough lies to the north, Scarborough to the south-east, Thirsk out west and Pickering to the south. Its eastern side skirts around the seaside town and fishing port of Whitby, but otherwise takes in a 26-mile stretch of sandy beaches and fossil-rich cliffs facing the North Sea.
The central plateau rises up from its hilly edges, the cause of some difficulty for transport in past centuries and even today, with road-signs warning of steep climbs and 'dangerous' descents. Nevertheless, the area attracts many tourists to its extensive heather moorland, woods and green meadows, with sheep, deer, birds and otters to be spotted near the many lakes, pools and streams. The highest point is Urra Moor at 1,490ft..
The North York Moors Historical Railway Trust has operated a steam railway service from Pickering to Whitby since 1972. Assisted by hundreds of volunteers, it aims to preserve a cherished piece of history by offering weddings, dining, photography and filming opportunities. Television series such as 'Heartbeat' and 'Downton Abbey', and the 'Harry Potter' films have used their stations as authentic backdrops.
(Image: Russel Wills at geograph.org.uk / CC BY-SA 2.0)