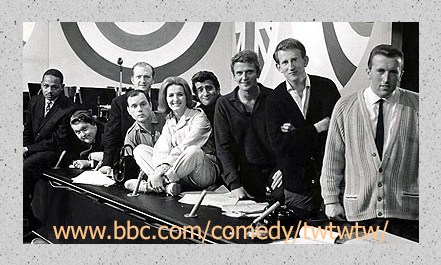 'That Was The Week That Was'
'That Was The Week That Was' ("TW3" for short) made stars of the lone female performer, the hugely talented theatrical singer/actress Millicent Martin (1934-), host Sir David Frost (1939-2013) and journalist Bernard Levin (1928-2004). It was the first satirical comedy show on British TV and politicians soon came to dread its regular Saturday night showing on BBC at 10.40pm, the last slot before close-down.
It began in November 1962 with 22 episodes written by a team of two dozen, assembled by creator, director and producer Ned Sherrin (1931-2007). The BBC in those days was open to new ideas and TW3 delivered, both in content and format, being aired live with glimpses of cameras, microphones, studio audience, script papers and technicians. Mistakes could not be edited out and the show often overran its time.
1963 was an unfortunate year for TW3, seeing the death in June of one of its performers, Timothy Birdsall, aged only 27. President John F. Kennedy was assassinated in November, for which TW3 produced its one and only serious episode in commemoration, and finally the BBC decided to cancel it altogether in December after 14 episodes of the second series, succumbing to pressure to censor political satire in the run-up to the October 1964 General Election.
(Top image: bbc.com/ copyright)