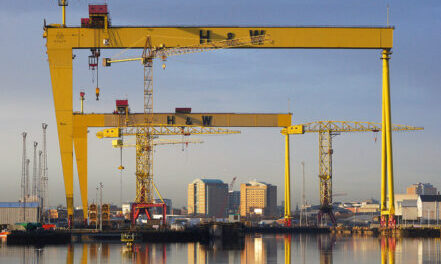 The city of Belfast, Northern Ireland's capital, has endured its fair share of bombings, both during WW2 and throughout 'The Troubles' (1968-98), which accounted for around 45,000 detonations. It has also seen the growth and decline of its manufacturing industries and had its Irish counterpart, Dublin, overtake it massively in size in recent decades.
Belfast became established thanks to its import/export trades in the period of the 'Ulster planters' in the early 1600s. Its industries included linen-making, introduced by the Huguenots, and at one time Belfast was nicknamed 'Linenopolis'. It was also known for whiskey distilling and heavy engineering.
Despite its ups and downs, Belfast has a knack for regenerating itself and making the best of its resources. In the 18th century this included cutting new channels bypassing the loops of the River Lagan in order to improve access to the docks. Tourists today flock to Belfast's Titanic Quarter, as of course the shipyards are famous for launching the RMS threesome named Olympic, Britannic and Titanic. The Harland & Wolff shipbuilding company turned out numerous liners and tankers and their huge yellow cranes, 'Samson' (348ft. high) and 'Goliath' (315ft.) remain today as iconic landmarks.
(Image showing Samson & Goliath: Rossographer at geograph.ie / CC BY-SA 2.0)