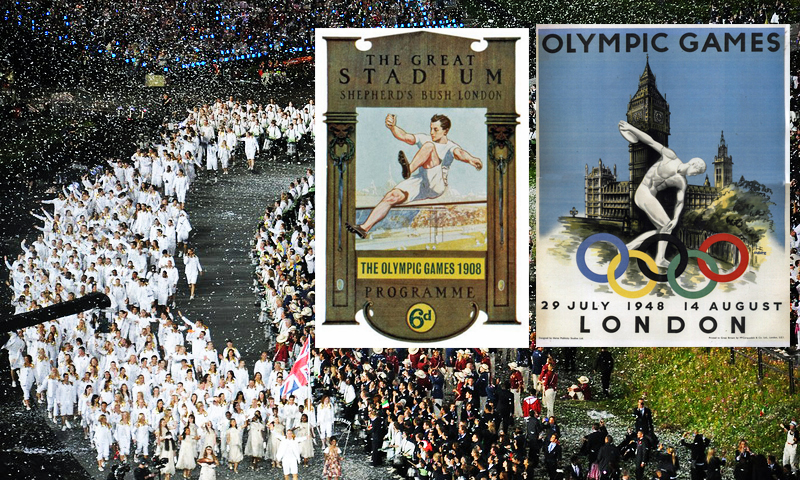 The unpredictable British weather hardly makes us favourites for hosting the Summer Olympics, but London has achieved this on three occasions. The 2012 London Olympics was the only one given plenty of time for planning and construction ~ those in 1908 and 1948 were both awarded on short notice, the former due to an eruption of Mount Vesuvius disrupting Rome's preparations, the latter due to WW2. While £9.3bn was spent on 2012's spectacle, the combined cost of its predecessors was a tiny fraction of that.
Medals-wise, the GB team excelled in 1908 with an amazing 56 Gold, 50 Silver and 37 Bronze, competing against 21 other countries in 110 events. In stark contrast, 1948 saw us win just 4 Gold, 16 Silver and 7 Bronze against 58 competitors in 136 events, but the positives included the groundbreaking development of the BBC's outside broadcasting department.
Existing venues in and around London were utilised, like Wembley, Highbury, Henley, Windsor Great Park, Aldershot, Bisley and for the sailing, Torbay in Devon. 2012 additionally involved the building of London Stadium (now the home of West Ham United F.C.) and London Aquatics Centre, plus four other new venues. Its Olympic Village was later converted into housing. The GB team won a creditable 29 Gold, 17 Silver and 19 Bronze medals among 204 nations in 302 events.
(Top images: 1908 poster – jenikirby.getarchive.net, 1948 poster – theirhistory at Flickr.com / CC BY-NC-SA 2.0, 2012 GB team – Department for Culture, Media and Sport at Flickr.com / CC BY 2.0)