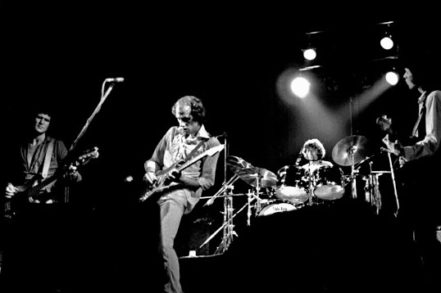 To be 'in dire straits' means to be in a poor state, but many people would instead think of the massively successful blues-rock group called Dire Straits, active from 1977 to 1988 and 1991 to 1995. They may have been in dire straits at the beginning, but their very first single, 'Sultans of Swing' was a big hit, initially in Europe, then the USA and the UK. This was the time of teenage punk rock and the well-crafted, warm, atmospheric style of Dire Straits was a breath of fresh air for the older audience.
Original group members were brothers Mark and David Knopfler, John Illsley and Pick Withers. Mark Knopfler was the front man, with his own laid-back singing style and brilliant guitar technique. Their biggest album was the 1985 classic 'Brothers in Arms', the first album to sell at least a million copies in the CD format. It actually sold thirty million copies in all. The group were keen to try digital technology and were among the first to put out music videos.
With over one hundred million record sales to their name, Dire Straits provided us with the enduring musical genius of Mark Knopfler and a sound that conjures up a decade.
(Image: Heinrich Klaffs at Flickr.com / CC BY-NC-SA 2.0)