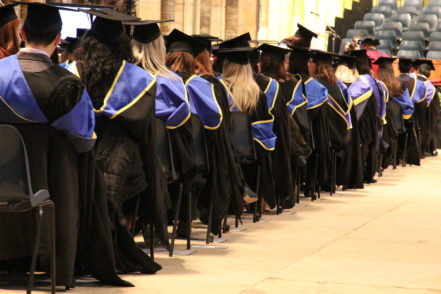 After studying hard for a degree, a university student will have mixed feelings on graduation day. It is an achievement to fill yourself and your family with pride, but it is also the start of an uncertain journey into adult working life, with new responsibilities. Joy, relief, excitement, anxiety and nervousness are all present at graduation ceremonies up and down the land each year.
The UK's oldest university, Oxford, was established in 1096, with Cambridge following in 1209. These were adjoined to the Catholic Church and, as graduates were entitled to become lecturers or clerics with all the accompanying privileges, they were permitted to wear the long black robes and hoods of that tier of society from graduation day onwards. Today, most graduands hire their gown, hood and cap just for the day.
Different universities specify their own colours for gowns, linings, hood trims and type of degree and if a student is receiving more than one degree on the day, they must change their regalia for each one. Processions, speeches and uplifting music characterise the ceremony, while studio photographs are a large part of the behind-the-scenes activity, as are the congratulatory sips of champagne and the fond farewells.
(Image: Richard Croft at geograph.org.uk / CC BY-SA 2.0)