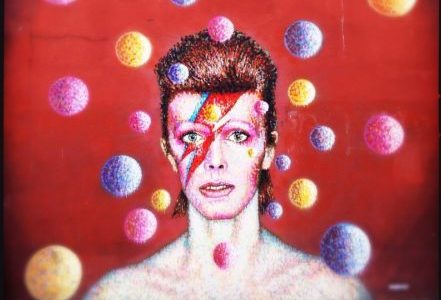 David Bowie, née Jones, (1947-2016) was an extraordinary songwriter and singer, musician, painter and actor of the 1970s-80s who became a cult figure for his avant-garde style. Using himself as the canvas, he presented several personas, including Ziggy Stardust and The Thin White Duke, and was a pioneer of glam rock.
Born in Brixton, he began joining bands at age fifteen, though not successfully as he was a solo artist at heart. With a family history of schizophrenia coupled to his innate flair for performance, he described himself as a 'collector' of personalities. After a blow to his left eye, the pupil was permanently dilated, giving the appearance of having one blue and one brown eye, adding to his mystique.
Bowie sold 140 million albums with a huge following across the world. His first big hit, 'Space Oddity', was released to coincide with the first moon landing, in 1969. The space theme was one he returned to again, with hits such as 'Life on Mars?' (1971) and 'Starman' (1972). His songwriting talent gave Mott the Hoople their No.1 hit 'All the Young Dudes' (1972) and his voice was distinctively rich and refined, with a theatrical quality. He continued working through terminal illness until his death.
(Top image of David Bowie mural in Brixton: Louise McLaren at Flickr.com / CC BY 2.0)